In Man of Her Dreams by Teresa Blue, Leslie Stone has caught her fiancée cheating with her maid of honor and best friend days before the wedding. Now she has left her two-timing, social climbing now ex-fiancée and the cookie-cutter house he had bought behind. Everyone believes that she is devastated by what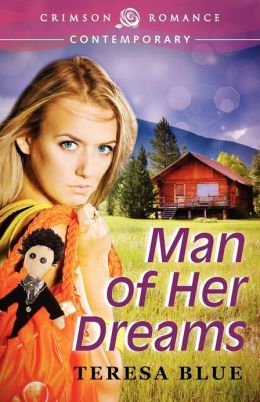 happened but all she feels is relief, like a weight has been lifted from her. As the good little girl she has always done what had to be done and she did the same with her fiancée when in fact she didn't love him. Now she has decided to get in her car and go to Sleepy Falls, Michigan to the family owned cabin.
Unfortunately, her 30 year-old Datsun decides to break down once she stops at the gas station in town and won't start again. Lucky for her that Jay the local mechanic and town handyman lives in the cabin next-door and offers to give her a ride home after she finishes picking up her groceries.
Jay finds himself attracted to Leslie as soon as he meets her, especially after he sees her doll Mr.Jingles, who is her life-long companion and whom she tells all her secrets.
Leslie will go on an adventure of self-discovery with the help of Sally, her new friend who helped her get dolled-up for a mechanical bull riding event, Madame Luella the fortune teller, Jay who she can't seem to find enough time to be alone with and get to know better without interruptions from others and her very intrusive family who show up when she least expects them.
If you want a fun, sweet, entertaining fast read, don't miss Man of Her Dreams by Teresa Blue.
Book Info
Publisher: Crimson Romance (August 13, 2012)
Leslie Stone stumbles upon her fiancé cheating with the maid of honor just days before her wedding. Determined to put distance between them, she heads to the family's cabin in Sleeping Falls, Michigan. Unfortunately, her car barely hit the city limits before breaking down. And with no money for repairs, the scrolling marquee above the biker bar advertising a mechanical bull riding contest seems like a perfect solution.
Jay Westfield learned at an early age to avoid women who chase the limelight. After all, his mother had been the star attraction in Harvey's Traveling show. The minute Leslie clears the door in cut-offs and skimpy tank top, things heat up. She's on a mission and he wants no part of it. The last thing he expects is the attraction he feels seeing her on the back of Old Iron.
Add in a squeezy rag doll named Mr. Jingles, the colorful antics of newfound friend, and the renowned tarot-card reader Madame Luella. Leslie's about to discover in order to find the man of her dreams she must be willing to believe in magic.
Sensuality Level: Sensual