Must Love Booksby Shauna Robinson: After five long years Nora is starting to feel like she is chasing her own tail, with what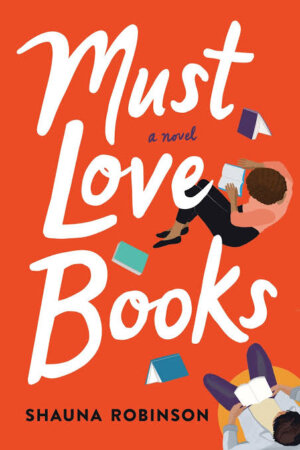 was supposed to be the start of her dream job as an editorial assistant has now turned out in her being a glorified waitress! If having to go on coffee and lunch runs were not bad enough now Parsons Press is cutting her already meagre salary. Stuck between a rock and a hard place Nora has no choice but to take up a second job moonlighting for a rival publisher Webber. However things get a bit more complicated when Nora is faced with meeting Andrew Santos a very sought after author that both publishing houses want to sign, the question is can Nora walk the fine line between what she wants and all the lies she has gotten herself tangled up in?
This book sounded exactly like something that I would love, a book about more books and publishing, count me right in! If the plot had hooked me in the tittle and cover sure sealed the deal, Must Love Books held a lot of promise of what could have been an excellent romance, however I did feel that this was a tiny bit more on the woman's fiction side opposed to a real romance read. I did really like getting an insight of the publishing world and all that goes into getting these amazing books.
Nora really was an interesting lady to follow, she had her moments that I found her incredibly relatable but then at the same time her battle with mental health made her character seem so much deeper. I think the thing that made me like her was because she was so relatable, we have all at one time or the other been in her shoes and wondered if what we have always wanted is actually still the thing that we want.
As much as I wanted to love this book completely the lack of real romance just took away a bit of the magic for me, however I absolutely loved Robinson's writing style and that she touched on mental health. I do wish that we had gotten to know Andrew a bit more, but I really like his easy charm and the lightness that his character adds to Nora's story. Overall Must Love Books was a nice read, that I would recommend.
Book Info:

Publication: January 18th 2022 | Sourcebooks |
Meet Nora Hughes―the overworked, underpaid, last bookish assistant standing. At least for now. When Nora landed an editorial assistant position at Parsons Press, it was her first step towards The Dream Job. Because, honestly, is there anything dreamier than making books for a living? But after five years of lunch orders, finicky authors, and per my last emails, Nora has come to one grand conclusion: Dream Jobs do not exist.
With her life spiraling and the Parsons staff sinking, Nora gets hit with even worse news. Parsons is cutting her already unlivable salary. Unable to afford her rent and without even the novels she once loved as a comfort, Nora decides to moonlight for a rival publisher to make ends meet…and maybe poach some Parsons authors along the way.
But when Andrew Santos, a bestselling Parsons author no one can afford to lose is thrown into the mix, Nora has to decide where her loyalties lie. Her new Dream Job, ever-optimistic Andrew, or…herself and her future.