In Spirited by Mary Behre, Jules wants nothing more than to be normal…not the oddball she's always felt like. Seeing and speaking to the dead is definitely out of the ordinary though, and Jules' move to Tidewater does not stop the ghosts from finding her. She has come to tidewater to try to find her sisters, to escape her past, not to help more ghosts. This trait sometimes gets Jules into trouble …especially when just after her arrival in Tidewater she ends up in the midst of not only a jewel theft ring investigation, but a murder investigation, and a ghost who just won't leave her alone. The dead want her help, but she's not always sure how to help them.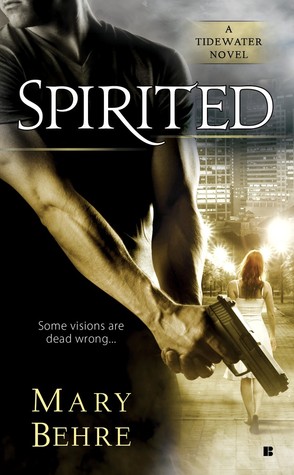 Seth is a detective striving for a promotion…and solving the jewel theft and the murder will go a long way to boosting his promotion. He meets Jules in the most unconventional way…"Jules sat dumbfounded in the bedroom of a Greek god." Seth's initial mistrust of Jules due to those circumstances and other events have him at first thinking she might be a suspect in both of his cases. But the more he sees of her, the more he wants to trust her. He knows she has secrets, but he is sure she is not a risk to his cases. Instead she is a risk to him…because he's starting to become very attached to her. The feeling is very mutual, but can Jules trust Seth with her secrets? With the danger increasing and Jules at risk, Seth is going to have to decide if he can believe in not only his instincts but in Jules. Will they have a chance together? It might be too late though…because someone else thinks Jules is too big of a risk also.
Mary gives us an at times humorous, at times suspenseful story in Spirited. Both Jules and Seth are great characters, but I really would have liked a lot more background on Jules a lot sooner. I feel that this would have helped with her character development, giving it strength and making me feel like I knew her. Instead there were a lot of blanks and unanswered questions that had me somewhat confused at times and feeling like there was so much of the story untold. Having said that, I found Jules as she is today, to be a strong woman, but at the same time vulnerable. She doesn't trust easily and is very private. Seth is a man with integrity – whether it's family or work. He wants to do his job, but suddenly he wants Jules just as much and at times this is conflicting for him. He has the stability that Jules is craving if they can open their hearts to be together. I could easily picture them as a couple. Neither of them intended to be together, but just as the dead need Jules, Jules and Seth need each other. The interactions between them were so funny and life like! They have a lot of chemistry, but little action. This is ok though, it works really well with the story. Much more action would have taken too much away from the main premise of Spirited.
There are a lot of secondary characters adding flavor to Spirited (both alive and dead!), and there is one in particular who will capture your heart!
Mary Behr does draw you into Spirited immediately in a fun way and makes you want to stay with an entertaining and interesting story. She effectively blends romance with suspense, weaving together stories that work together very well. The lack of background and clearer build up of the stories and characters did at times make Spirited hard to follow.
I would say Spirited is more suspenseful with some paranormal, and Mary managed to keep me guessing! Mary does set up the start of this series well enough that I will be back for more, the promise and ideas for this series are very compelling.
I'd recommend Spirited to romantic suspense readers who like a fairly clean romance as well as some ghostly presence!
Book Info:

Published March 4th 2014 by Berkley
She's running from who she is……
All Jules Scott wants is to live a normal, quiet life—preferably one that doesn't include ghosts. Jules's talent for communicating with the dead has brought her nothing but trouble. Despite her best efforts, needy spirits always find her and draw her into their otherworldly drama. When one implicates her in a series of deadly crimes, she may need to entrust her secrets to the person least likely to believe her.…
He'll do whatever it takes to catch her.
Detective Seth English can't get distracted from the big case he's working on, not even by his alluring new neighbor. He doesn't believe that Jules had anything to do with the string of robberies-turned-murders that he's investigating, but when she keeps showing up in all the wrong places, his gut tells him she knows more than she's letting on. To solve his case, he'll need to expose what the sexy redhead is hiding—no matter how impossible the truth may be….