The Billionaire's Baby Negotiation by Millie Adams: Intense business rivals Olive and Gunnar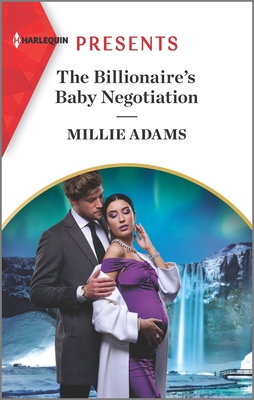 are going head to head. It's battle stations in both the boardroom and the bedroom in Millie Adams cracker jack HOT, fun, star bursting, roof top shouting winner of a book The Billionaire's Baby Negotiation!
Wow! Just wow! I was blown away by my love for this story. That feeling of pure regret when you take a book off the shelf and just know by the end of the first chapter you are head over heels in love and can.not.believe it's been sitting on the shelf gathering dust and not read! That is this story. I definitely saved the best for last this month.
Olive wins the most important account with her exceptional business pitch. She blew her closest business rival Gunnar out the gate. Part one of her life long dream achieved, tick! Part two of Olive's life long dream is to face her desire of Gunnar head on and get him out of her system once and for all. A combustible evening is shared together. Their simmering passion explodes! Tick!
Two months later after receiving earth shattering news Gunnar hunts Olive down and is ready to tear her limb from limb and throw her to the wolves. Olive has earth shattering news of her own. Her unexpected pregnancy doesn't do much to tamper Gunnar's anger but they face their unplanned life changing event together with a mixture of results. Between the battle lines Gunnar and Olive dissect their childhoods; their families and themselves. Have they forgotten how to love? Who will thaw first and venture their heart to the other.
I literally can't do justice describing this story. It was super face paced, packed with intense emotion, top of the line banter and beautiful locations. It was funny, it was witty, it was sad, it was joyful, it was engaging and it was edge of seat-ness. I couldn't wait to get back to it when work interrupted and I actually want to read it again, right now!
My most recent favourite! Thank you Millie Adams, more like that please.
Book Info:

Publication: August 2022 | Harlequin Presents |
Tech CEO Olive Monroe has hated Icelandic billionaire Gunnar Magnusson for years but wants to kiss him all the time. And that's even before innocent Olive spends an electric night in her business rival's penthouse suite! He's the Viking fantasy of her dreams, until she discovers the consequences…
Gunnar's solution to Olive's pregnancy secret? The highest stakes negotiation of all—he wants their baby, her company and her! Except Gunnar wasn't counting on her ability to turn the glacial ice in his veins into scorching, unstoppable lava…