In Fireside Inn by Lily Everett, Miles is getting ready to get married to his fiancee on Sanctuary Island. Miles enlists the help of his three bachelor friends in planning his wedding – he wants it to be perfect.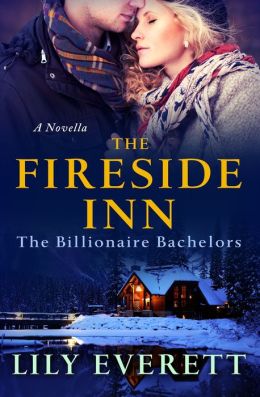 Madly in love, Miles is so sure the magic of Sanctuary Island will claim his friends and they'll find love there that he makes them a bet to that affect. Leo, Zane and Cooper readily accept the bet…none of them is looking for love or a permanent relationship. But " 'No one intends to fall in love,' Miles said…'But on Sanctuary Island? You won't have a choice.' "
Leo, an English Lord living in the US, is charged doing a reading at the wedding. Leo needs help, so he turns to Sanctuary Island's library and librarian Serena. The chemistry between Serena and Leo is immediate…even through the door when Serena first hears his voice… "That voice! He sure didn't sound harmless. He sounded like he'd be a danger to any woman's sanity…"
Even knowing Leo isn't sticking around, Serena can't resist him – so she doesn't! "When the devil was this appealing, what mere mortal could resist him?" But Leo is keeping a secret from Serena, a big part of who he is. It shames him and makes him feel unworthy… Will his secret come out? And if it does can Serena see past it and her own issues?
The more I got to know Leo the more I really hoped he'd find his true love, someone to love him and see past what he considered his flaw. Although a confirmed bachelor, I sensed a desire for more in him that he would never admit to. Serena has issues to, and whether or not she's mature enough to accept Leo and that he's been hiding something from her in the short time they've known each other? Well, you'll have to read Fireside Inn to see what happens!
Lily gives us a couple of characters that you are easily drawn to, that you want to get to know better. I think we get to know them pretty well considering Fireside Inn is a novella. I was happy with the length of the novella for the story to be told. Fireside Inn was a fast paced, quickly read novella that reinforced love at first sight! Yes, I believe in that so I love reading books like this!
I love Lily's writing style and her way with words…as you can see from the quotes she writes with a flair that will keep you interested!
I'd recommend Fireside Inn to a romance reader looking for a quick, fun, romance with a humorous English Lord and a hot librarian!!
Book Info:

Published January 7th 2014 by St. Martin's Paperbacks | Series: Billionaire Bachelors #1
They're single, they're rich, and now these billionaire bachelors are heading to Sanctuary Island in a new e-original novella series from Lily Everett! Fall in love with the island's latest catch.
Leo, Zane, and Cooper made a pact to stay bachelors and enjoy the single life forever, and when they receive an invitation to their friend Miles' wedding, they head down to Sanctuary Island determined to talk some sense into the errant groom before he makes a life-changing mistake. But Miles knows his own mind, and he makes a vow of his own: before he walks down the aisle, he'll have Leo, Zane, and Cooper changing their tune about matrimony. Because Miles knows, better than anyone, that all it takes is a little Sanctuary Island magic to turn romantic cynics into true believers.
The Honorable Lord Leo Strathairn inherited his family's money, his title, and his position in London society. When he meets Sanctuary Island's funky young librarian, Serena Lightfoot, he's determined to get a lot closer. Despite the simmering attraction between them, Serena isn't at all interested in putting up with a pampered playboy. But as Leo ramps up his seduction attempts, Serena sees that he's nothing like the empty-headed aristocrat she'd assumed.