The Italian Job by Kathryn Freeman: Anna Roberts thought she had everything until she walked in on her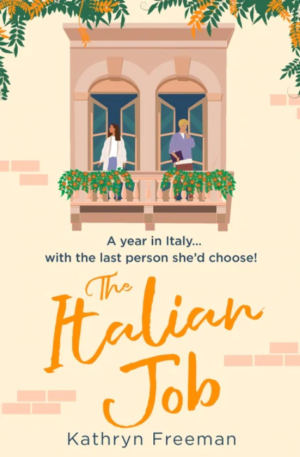 boyfriend and one of the waitstaff at the restaurant. Looking for new employment would be easier too if he hadn't bad mouthed her around town after being caught. When she randomly searches for a "dream job" on the internet and finds a listing for a castle caretaker, she thinks it would be perfect… except for the fact that they want a couple to apply. Good thing Anna knows the perfect candidate to apply with, even though she can't stand him.
Jake Tucker has been labeled as the bad boy for a long time and his recent jail time for punching a guy doesn't help the image. Jobless because the fire department doesn't want to re-employ him upon his release, he has been helping out with random odd jobs for his mom's friends. When Anna reaches out to him about faking a relationship to take care of a castle, he thinks she's joking. Why would Saint Anna want to spend the next year with him let alone act like she likes him?
When the two of them successfully nab the job, they have to deal with an intrusive ex, a conniving son, new friends and neighbors while trying to avoid the growing emotions for each other. As they work through the different circumstances that come up at the castle, they find that they like spending time with each other a lot, but can they convince each other to take a real chance on love?
Anna and Jake both had family issues as well as issues with one man in particular. Anna dealt with her mom abandoning her at a young age and tried to find coping mechanisms in the form of lists to check off. When Jake wants her to ignore lists for a bit, she finds that she cannot handle it. As he tries to get her to open up, he tries to get to the root cause of her stress. When Anna is finally able to see that she is worthy of how Jake looks at her, she starts to blossom into a new woman.
Jake was always the man of the house and very protective of his family. He doesn't tell anyone the truth about why he punched a man, because he wants to protect those he loves. As he gets to know Anna, he finds he wants to protect her the same way. When Anna fights back against his protectiveness, he starts to see how their partnership could work and how he wants to be there for her.
Between the two of them, they definitely have their animosity, but the love that comes from their differences is magical. They help each other understand themselves more while also understanding how their relationships with others are beneficial as well. I felt that this book was such a beautiful read, and I was engrossed in the characters, setting and story all the way through.
Book Info:

Publication: May 6, 2022 | One More Chapter |
Dream job. Dream house. Fake fiancé.
A year in a gorgeous Italian castle…
When Anna Roberts' life implodes, an online search leads her to an ad for the ultimate dream job – management of a gorgeous castle on the shores of Lake Como, accommodation included. The only catch? Anna can't do it alone…
…With the last man on earth she'd choose!
The castle owners will only accept a couple as caretakers, which means Anna needs a man on her arm at the interview. Enter her neighbor, Jake Tucker. Though Anna and Jake have never seen eye-to-eye, Jake's had a rough few years and an escape to Italy sounds ideal. Yet, when they get the job and jet off, Anna and Jake face an unexpected challenge. Pretending to be a couple is difficult … but pretending the tension simmering between them doesn't exist is quickly proving impossible!