Epic Romantic Fantasy! The Siren and the Deep Blue Sea by Kerrelyn Sparksis the final book in the series of books about the Embraced of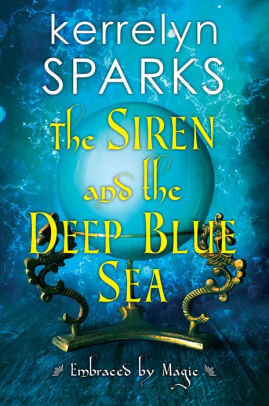 Aerthlan.
Maeve was happy for her four sisters. She really was. They'd all met their true loves and were now queens of the four countries of Aerthlan. Maeve had been left at the convent on the Isle of Moon when she was about a year old, youngest of the five Embraced girls. They were sent to the convent to keep them save since at the time they were born there were those in Aerthlan who were determined to destroy the Embraced because they feared their magic . Maeve's sisters, as they thought of each other after growing up together, along with their husband kings have stopped the persecution of the Embraced. They are all Embraced themselves. So yes Maeve is happy for her sisters but she needs to figure out what she should do with her life. That can wait though as right now she needs to find Brody, the Aerthlan kings' spy. He hasn't been seen for almost two months and Maeve is very worried about him. He set off to find the enemies of the four kingdoms, the Circle of Five (now down to three) and their rumored army of Embraced. Maeve cares very much about Brody and her concern for his safety is strong. So since she believes he is off searching for the Circle's army Maeve thinks she has found their location and intends to make her way there in the hope of finding Brody.
Brody is the lone survivor of an attack by the Sea Witch when he, his father and his older brother were out sailing. He was saved from drowning like his father, brother and crew when his Embraced power of shape-shifting manifested and he shifted into a seal. The evil Sea Witch saw him getting away from her attack and she cursed him with only being able to spend two hours each day in his actual human form. Brody washed up on the Isle of Mist where the Seer lived. The Seer took Brody in and raised him. When Brody grew old enough he chose to become the Embraced kings' spy as they worked to overcome the evil Circle of Five. He was always on the alert for finding the evil Sea Witch who cursed him. When Brody met Maeve it was love at first sight but he avoided her as best he could because it hurt too much to see her and know she deserved better than his cursed self. That didn't stop Brody from loving Maeve though. And Brody was to learn that he was no match for Maeve's stubbornness.
Finally the reader gets all the loose ends tied up and answers to questions about some of the characters answered. I loved all the surprises in this book. The final battle is epic. The storyline is complete and all the main characters get their Happily Ever After. This is one of my all-time-favorite romantic fantasy series. I highly recommend this book and the entire series.
Book Info:

Publication: August 25th 2020 | Kensington | Embraced by Magic #2, The Embraced #5
Four sisters have become queens, rulers of all that Aerthlan's two moons embrace. The last sister will forge her own path . . .
Signs and Seals
Raised on the magic-seeped Isle of Moon, Maeve is used to unusual powers–and the way they fuel the politics of her world. But when she discovers an ability to shape-shift at will, she knows who she wants to share it with first. Brody, the enigmatic, infuriating shifter-spy has always made time for Maeve. But it's been almost two months since she's seen him. And though no one else believes Brody is in danger, Maeve is more than ready to rescue him herself.
The rumors Brody's investigating are terrifying: a secret army of magic-users, in the service of the cruel Circle of Five. But when he uncovers the identity of one of the Five, the mission becomes personal. Cursed as a boy by the Sea Witch, Brody can spend only two hours a day in his human form, a restriction that limits his future and muzzles his heart. Plus Maeve teases him for being such a pretty doggy instead of appreciating his manly charms. To win his freedom, he must take on a terrible disguise. And when Maeve finds out, she'll unleash a tempest like no other . . .
The books in the series are:
How To Tame A Beast in Seven Days
So I Married A Sorcerer
Eight Simple Rules for Dating A Dragon
How To Love Your Elf