In Three Broken Promises (Drew + Fable #3) by Monica Murphy, Jen Cade is running out of excuses as to why she's still allowing herself to hope Colin Wilder will ever love her. He saved her when she was at the lowest point of her life, giving her a place to stay and a job at his restaurant. A year later, Jen's still staying at Colin's place, hoping he'll admit to the feelings she's pretty sure he has for her. Although there are times when she's afraid he's just helping her out of his sense of obligation after her brother, his best friend Danny, was killed overseas.
"You sacrifice everything for me. Always. you're my knight in shining armor, running to my rescue. What do I ever do for you?"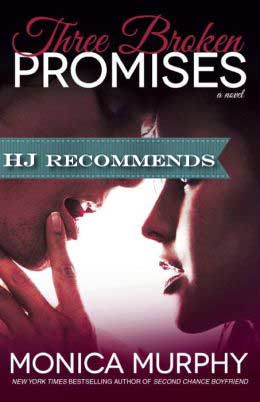 So Jen decides now is the time to break free and move to a different town and build a new life. But as soon as she tells Colin, his behavior becomes erratic. First he wants her to stay and then he offers to help her move. Thoroughly confused, Jen contemplates laying her heart on the line and just confessing her love for Colin. She's not sure if he would do the same and let her in, or if it would be the final push to make her leave his life forever.
"I don't need you," I mumble, briefly closing my eyes when I see the pain etched across his face. I'm such a liar. I need him so much. I just hate that I do.
"I know." His voice lowers to a near whisper. "Sometimes I think I'm the one who needs you more."
Colin Wilder is riddled with guilt. He feels as though he has let everyone in his life down in some way over the years. From his mother who doesn't want him, to his best friend who fought in a war without him and ended up dying, Colin can't let go of his need to help…especially Jen. Even though she says he saved her, he still thinks he should have been there sooner to keep her from having to do things she regrets just to survive. Now Jen is threatening to leave his life forever. It's never been easy for Colin to express his feelings verbally, but for the first time in his life, he needs to man up and find a way to tell Jen just how much he cares for her. If it's not already too late.
'I want her. Just looking at her makes me feel all growly and possessive. Jen belongs to me. She just doesn't realize it yet.'
In Three Broken Promises, we finally get to find out what Jen and Colin's relationship really is, after reading about it in the previous installments of the Drew + Fable series. So. Much. Drama. Wow.
Both Jen and Colin are haunted by decisions they've made in their past. The situations they found themselves in were completely different, but they equally feel guilty for the choices they made. As I said before, this makes for a lot of drama, but also as a way for them to connect. In that respect they are kindred spirits. And the fact that they are harboring feelings for each other just proves to further complicate their relationship.
It was easy as an outsider reading this story to see that if they would only open up to each other, they could probably make things work. But I could understand when dealing with such strong emotions how difficult it would be to let go and trust someone who could break your heart. And Colin and Jen had been through the ringer already in their young lifetime. I felt like the POV being a narrative but switching back and forth every chapter or so between Jen and Colin was quite helpful in getting the full feeling for their characters. The story seemed more complete that way.
I think this type of plot is where Monica Murphy really shines. I love how she's not afraid to get into the gritty, real feelings with her characters and emotionally wreck them before they get their HEA. Some parts of the plot may not be pretty and shiny, but there is a sense of realism to what our protagonists experience and to me that is what makes Monica's books stand out.
If you're looking for a New Adult romance that is a complete roller coaster ride of emotions (and is worth every twist and turn), try Three Broken Promises. You don't have to have read the previous books in this series to enjoy Colin and Jen's story.
Book Info:

Published December 31st 2013 by Bantam
Breakout New Adult sensation Monica Murphy returns with a hot new contemporary romance—a heartfelt story of second chances, forgiveness, and redemption.
Commitment. That's what I really want from Colin. Ever since my brother, Danny, died in Iraq, Colin's done so much to help me, including giving me a job at his popular restaurant so I can leave my crappy waitressing job at the strip joint. But lying in bed with him every night to comfort him from his horrible nightmares isn't enough anymore. I know he feels guilty about Danny's death, about not going to Iraq, but I can't keep living this double life.
I love him desperately, but he's got so many demons, and if he can't open up to me now, then he'll never be the real partner I need him to be. I gave him a month, and now I'm out of here. If he truly loves me like he says, he knows where to find me.