In To Have and To Harley (Bikers and Brides #1) by Regina Cole, planning her best friend's wedding is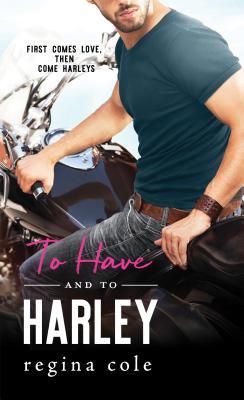 a huge task, but one Bethany Jernigan believes she has every hope of pulling off without a hitch in order to give her best friend the wedding of her dreams. However, she never imagined she'd have to share planning duties with the bride's long-lost brother, Trey Harding. Yet, the more time Bethany spends in Trey's company, the more she finds herself falling for the gorgeous, gruff, tattooed man she's only just met. But Trey is keeping secrets, ones that could possibly put her and those he's coming to care for in danger. Will Trey be able to keep Bethany safe or will Bethany walk away from her shot at happy ever after because Trey doesn't make it easy for her to trust him?
"My hero," Bethany said with a smile as she stepped to the floor. "Thanks."
"You've got to stop with this white knight, hero crap," Trey said without venom as he set the die-cut machine on the table by the window. "I'm not that kind of guy."
"So far, you haven't done anything to convince me otherwise."
What a fun and entertaining read Ms. Cole has delivered in this first book of her Bikers and Brides series where emotions run high, as Bethany will do anything to protect her best friend's family from Trey until she knows for herself he isn't going to hurt her surrogate family; and the hero does everything he can to help the family that was once his before everything went wrong for the hero. Will he ever be able to fit in with his family? Will he be able to form a good sibling relationship with his sister?
The way this story started drew me in immediately, as I loved the tight friendships the hero shares with his biker mates and how they will do anything to help someone in need, even if it means going outside the law. Will Trey and the others be able to help the person they're determined to help? How far are they willing to go to make sure the person they're dealing with isn't going to cause more problems for the person they're trying to help?
As for the dialogue, it was intense due to the main characters back stories, as the heroine's grandmother is a real piece of work with everything she has put Bethany through and is still putting her through. Yet, in saying that, Bethany is strong, brave and I liked that she finally stood up to her grandmother because the woman is an absolute witch. I also liked how protective she was of her best friend and the challenge she provides the hero because she isn't about to let him take advantage of a woman that has been searching for her long lost son. How do they really know that Trey is the right person? While the hero, he's been through tough times; tougher than most should have had to face at the age he did, but I liked the man that he's become. Really, he's strong, courageous, confident, a total bada**, a good friend and I liked how determined he was to get to know his biological mother, even if he has to go to extreme measures to be around Bethany, his mom and his sister. Will Trey embrace his family now that they've found him?
"You keep acting like this, and I'll forget I'm a gentleman," he said in a husky voice. She shivered a little as the deep rumble went through her.
"I already bought you a drink," she said, loosening her grip so he could turn to face her.
"I guess you did," he said with a crooked smile and a twinkle in his eye.
"Doesn't that mean I get another kiss?"
Overall, Ms. Cole has delivered a really good and entertaining read in this first book of her Bikers and Brides series where the chemistry between these two was strong; the romance was hot and had me loving that the heroine took a chance on Trey; the secondary characters in Trey's friends were just as compelling as the hero and had me laughing because they're absolutely clueless when it comes to weddings and brides; and the ending had me worried for the main characters because of the trouble they face, but had me liking how everything works out for best for the pair, as Bethany is really good for Trey. Besides, Bethany needs something new in her life and I liked the surprise she received from someone that cares about her a lot because it'll help towards the new career she plans to pursue. I would recommend To Have and To Harley by Regina Cole, if you enjoy the opposites attract trope or books by authors Jackie Lau, Julie Ann Walker, Kit Rocha and Penny Reid.
Book Info:

Publication: August 7th, 2018 | Sourcebooks Casablanca | Bikers and Brides #1
You may now kiss the biker
Bethany Jernigan owes her bestie. Big time. So when wedding planning overburdens the bride-to-be, Bethany steps in to handle the nitty-gritty. But the guy in charge isn't anything like she imagined. He's gruff, tattooed, and 100% male. His staff is even rougher around the edges, and it's not long before she feels as if she's stepped into some kind of crazy alternate reality.
Are those…bikers? Arguing about wedding favors?
Trey Harding never wanted this to get so out of hand. One little lie somehow snowballed into a world of dresses and flowers and food and holy-hell-he's-in-over-his-head. But it's not like he can confess he's not the wedding planner he's pretending to be–especially now that he's falling for the maid of honor! His charade is becoming a farce, and as engines rev and ribbons fly, Trey's running out of time to figure out how to tell the truth without losing his new family, his crew…or the woman of his dreams.