In Beneath the Surface by Melynda Price, Quinn Summers is a brilliant journalist. However, it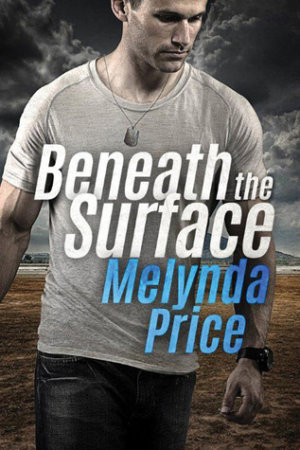 seems with her latest assignment she's bitten off more than she can chew – so to speak. Needing protection from the bad guys after her, Quinn turns to the last man she'd ask for help. Can Asher Tate keep her safe while she continues to investigate, or will the shocking truth she discovers put her in more danger than Asher can handle?
"You expect me to believe that you have no clue who's trying to kill you, and you don't know why. I'm not a f****** idiot, Quinn, and I gotta be honest, you're not making a very compelling case for yourself."
She exhaled a defeated sigh, unsure how much she should say right now. "I know, but I'm asking for your help anyway. All I can tell you is that it has to do with a story I was working on in Haiti for the CGRN."
I am an absolute fan of Ms. Price's books, so I couldn't wait to read this and I've got to say Beneath the Surface was an incredible read that I could not put down for even a second. From start to finish, this book was compelling, fast-paced and provided a good dose of pulse-pounding suspense, especially after what happens to Quinn's roommate and the shocking secret Quinn knows that someone is looking to kill her over to make certain she never releases the truth after she has evidence to back up her story.
As for the dialogue, it was well-written and extremely intense due the main characters back stories; everything Quinn goes through to uncover the truth of her investigation; and the history between Asher and Quinn. He's a total womanizer, and the first time they met he didn't exactly make the best impression. However, there was some light-hearted moments between Asher and Quinn as well as between the main and secondary characters that had me cheering for this couple to achieve their happy ever after. Could Quinn's sister convince her to give Asher a chance?
"Look, Vi, I'm happy for you that you found Nikko, really I am. But not all of us get our happily ever after, you know? Sometimes Prince Charming is really just a frog."
"And you think Asher is a frog?"
"No, I think he's a toad that hides his warts really, really well."=
"Don't we all?"
Ouch. "You know I hate it when you're always right," she grumbled, exhaling a frustrated sigh.
Both the main characters were enthralling due to their back stories. Quinn doesn't find it easy to trust after her last relationship, and Asher is a total player. Certainly, it doesn't help that he uses his charm on her and that she's determined to resist, but doesn't know how she's going to be able to. As for Quinn, she's strong, brave and I liked how determined she was to pursue her story. No way could she allow the bad guys to continue what they were doing to young girls, not if she could stop it with her information. Moreover, I liked that I could feel every emotion and reaction along with the heroine. She was deeply affected by what was happening to the children.
While Asher, he's honorable, confident and I loved how protective he was of Quinn, even though they had a sort of like-hate relationship going in the beginning. He thought she was a woman that was wound a little too tight and needed to have some fun. I also liked how Asher was willing to help Quinn with her story, although when the pieces finally came together lead to a shocking truth that he wouldn't be able to believe unless the proof was right in front of him.
Overall, Ms Price has penned another wonderful novel with a strong romance that will enthrall readers along with this couple's playful banter and Asher's protectiveness of Quinn. The way this story ended was intense due to what happens to Quinn and what Asher has to do to protect her. I would recommend Beneath the Surface, if you enjoy romantic suspense or the enemies to lovers trope.
Book Info:

Publication: September 13th, 2016 | Montlake Romance |
He was the last man she wanted to turn to for help. But when freelance journalist Quinn Summers uncovers a shocking secret with the potential to rock Washington, DC, she reluctantly finds herself on his doorstep. Someone intends to silence her forever, and Asher Tate may be all that's standing between her and a vicious killer.
Overbearing, arrogant, and insanely hot, the ex-marine Special Forces officer turned mercenary for hire is no bodyguard—especially when it comes to the stubborn woman who sets his blood on fire as quickly as his temper. Quinn Summers is a powder keg of trouble just waiting for a match, and he isn't surprised that the feisty beauty has made some dangerous enemies.
To survive, she's going to have to play by his rules—and that means stepping into Asher's world, where he controls the playing field. But in his fight to save Quinn's life, he just might end up losing his heart…