Tangled Up in Texas by Delores Fossen is the first book in her new series, Lone Star Ridge. In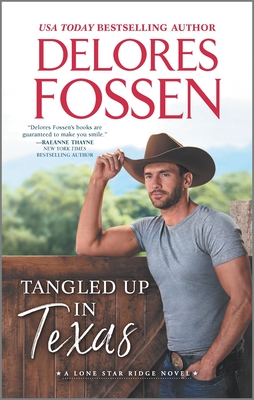 addition to telling Sunny and Shaw's story this is where Ms. Fossen introduces all the Jameson siblings living in Lone Star Ridge. They are a very interesting family.
Runaway Bride is not the moniker anyone wants to be known by but that's what Sunny Dalton is dealing with at the moment. Yes, she ended her engagement to Hugh Dunbar just weeks before the wedding but she had admitted to herself that marrying Hugh just wasn't going to work for her. So here she is with Hugh's son Ryan, who Hugh basically ignores, at her grandmother's house in Lone Star Ridge, the setting for her former TV career along with sisters McCall and Hadley.
The triplets were the stars of a reality TV show called Little Cowgirls. Now she is back to regroup after the near disaster of marrying Hugh Dunbar. Back to the scene of the reality show she disliked so much since it dominated her childhood and teen year life much to her dismay. The plus side to being back though is Shaw Jameson. Sunny just can't stop loving Shaw. Too bad their goals are so opposite. Sunny wants to have a baby and Shaw doesn't.
Shaw Jameson is happy running the family ranch. He's happy to see Sunny back in Lone Star Ridge as well. That joy is tempered by the fact she delivers another half-sibling to his door. Shaw's father has children strewn throughout the country. Some have found their way to the Jameson family homestead, like this one, Kinsley Rubio. His father is A.W.O.L. as usual. Kinsley has run away from home after just discovering the identity of her father. She just wants to meet him. Shaw knows this won't end well. But at least Sunny is back! That puts a smile on his face.
Delores Fossen always does an excellent job of writing very likeable, well-developed characters. But if she doesn't want you to like one, by golly, you won't like that character. (Sunny's mother, Sunshine) She does characterization that well. This book is a great start to the series. Looks like there's plenty of good reading ahead.
Book Info:

Publication: February 25th 2020 | HQN | Lone Star Ridge
Their past never faded—and neither did their passion.
Between running his family ranch and dealing with far too many needy relatives, Shaw Jameson doesn't have time for more trouble. But when his first love, former-child-star-turned-businesswoman Sunny Dalton, returns to Lone Star Ridge, Shaw senses things are about to get a whole lot more interesting.
Shaw isn't prepared for the memories that come flooding back now…or the reignited spark between them that turns into a raging inferno. Still, this gorgeous cowboy will do everything he can not to get burned a second time. Because Sunny never promised this visit was permanent and Shaw has no intention of giving up the land he loves. Letting Sunny go again is certain to leave a Texas-sized mark on his soul—and a permanent wall around his heart. Unless he can prove their small town holds the promise of the future they both always imagined.